Featured at: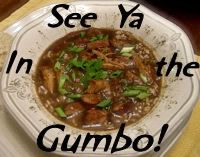 You all probably know by now that I have a great love for garlic, but I also have an equal love for bacon. I was browsing around finding different recipes when I stumbled upon these lovely pasta from Guy Fieri. Hello! This guy knows food so when he says put bacon in your spaghetti you know it is going to be fantastic!
I made some slight changes. I know how can you go against the awesomeness of Guy Fieri??? But they were minor changes and they worked with what I had on hand. Seriously, if you love bacon you need to try this one!
Bacon and Tomato Spaghetti
source
Guy's Big Bite
1 lb spaghetti (or other favorite pasta), cooked and drained
1 lb bacon, chopped
1 medium onion, diced
1/4 tsp crushed red pepper flakes (my family hates spicy food so add more if you like it!)
3 TBS minced garlic
1 - 28 oz can diced tomatoes with juice
2 tomatoes, diced and seeded
1/4 cup balsamic vinaigrette
1 TBS Italian seasoning
1/4 cup shredded parmesan cheese
1/2 tsp pepper
1/2 tsp salt
Heat a large skillet over medium heat and saute bacon until crispy, about 5 minutes
Remove bacon and drain on paper towel
Remove all but about 2 TBS of bacon grease from the pan
Add onions and red pepper flakes to the skillet and cook until onions are translucent, about 7-10 minutes
Add garlic and cook for about 2 minutes
Add tomatoes, balsamic vinegaigrette,salt, pepper, italian seasoning, and bacon to the skillet and cook on low for about 20 minutes to allow flavors to blend
Toss in cooked pasta and shredded parmesan
Serve with additional parmesan for topping and enjoy!
You can see this is a really simple dish. The bacon just does something amazing to this dish, but then again when doesn't bacon do something amazing?!? This one is definitely a hit and I can see this being added to the meal plan for good! Yum!
Below is the nutritional value per serving. This recipe yields approximately 8 servings,
Linked to: