I was featured at: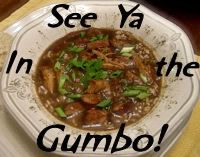 Do you get that dreaded "uggghhh...not meatloaf" from your kids. Mine are not keen on it for some reason. Some days they are fine with it and others it is as if I told them we were eating liver and onions...I just don't get it! This month I decided I would change up our regular recipe in hopes to defeat the slumped shoulders and disappointed cries upon hearing we are eating meatloaf.
I decided to stuff our meatloaf with pepperoni, green pepper, and cheese. You could use any topping you like on pizza. There is definitely no going wrong there. So get creative and add what you like!
Pizza Stuffed Meatloaf
1 lb ground beef
1/2 lb ground italian sausage
1 cup
pizza sauce
2 medium carrots, shredded
1/2 cup parmesan cheese, shredded
1 tsp oregano
1/2 tsp basil
1/2 tsp salt
1/2 tsp pepper
1 small onion, finely diced
1/2 cup cornmeal
Mix all ingredients together until fully incorporated
Flatten out in a 8x12 sheet
1/2 cup shredded mozzarella cheese
12-15 pepperoni
1/2 cup diced green pepper
or any other desired toppings
Sprinkle toppings in the middle of the loaf mixture
Roll up (this will be messy), pinch the edges to seal in the toppings, and lift the loaf (with the tinfoil) into a loaf pan
Bake for 40 minutes in a preheated 350 degree oven
1/2 cup shredded mozzarella cheese
12-15 pepperoni
Top with pizza sauce, mozzarella cheese, and then pepperoni
Bake for 15-20 minutes until cheese is melted and meatloaf if cooked
This was really good! I think next time I may just mix all the pizza toppings inside instead of making this a stuffed loaf. I am sure it will be just as good, but easier to prepare! Everyone was happy with this recipe and it was gone in no time! Not a single complaint because it was meatloaf night :)
Below is the nutritional value per serving. This recipe yields approximately 12 servings.
Nutrition Facts
Serving Size 141 g
Amount Per Serving
Total Carbohydrates
10.1g
3%
| | | |
| --- | --- | --- |
| Vitamin A 38% | • | Vitamin C 12% |
| Calcium 14% | • | Iron 47% |
* Based on a 2000 calorie diet
Linked to: