I was featured at: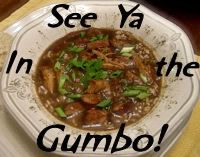 We love Galumpkis, or better known as stuffed cabbage rolls, and I don't make them often enough. It takes a while to make so make sure you have a few hours to make this dish. You can always prepare them ahead of time and just stick them in the oven the next day if you wish. I have never tried to freeze them though so I am not sure how that would work.
To assemble it takes about 30-45 minutes and to bake it takes about 90 minutes. I know that sounds like a long time for dinner, but trust me there is nothing like homemade galumpkis. It is true comfort food. We used to eat them all the time when I was a kid. It is cheap to make and delicious! You can't beat that!
I cut one in half so you could see the inside too
Inside look of the yummy deliciousness
Galuumpkis (Stuffed Cabbage Rolls)
1 head of cabbage
Filling:
1 lb ground beef
1 egg, beaten
3/4 tsp salt
1/2 tsp pepper
1 tsp garlic powder
2 tsp dried parsley
1 TBS dried minced onion
3/4 cup long grain rice
1 TBS worcestershire sauce
Sauce:
2 - 8 oz tomato sauce
1 can diced tomatoes
2 TBS brown sugar
2 TBS lemon juice
1 TBS worcestershire sauce
Prepare cabbage by placing in a pot of boiling water for 4-6 minutes or until tender, but not mushy
Remove cabbage and when cool to the touch remove cabbage leaves and allow to dry
In a medium bowl combine (I find it easiest to use your hands) all the filling ingredients
In a small bowl whisk together all the sauce ingredients
Place 1/4-1/2 cup of the filling inside each cabbage leaf and roll up by tucking sides and edges in
Place rolls in a 9x13 baking dish and top with sauce
Cover with aluminum foil and bake for 1 hour 15 minutes in a preheated 350 degree oven
Remove aluminum foil and continue to bake for 15 minutes
There aren't too many ingredients or even steps to making these it is just time consuming to bake and prepare. But don't let that discourage you because these are delicious and comforting! A true dish from my childhood that takes me back.
Below is the nutritional value per Galumpki, I made 8. Your information would change if you made more or less depending on the amount of meat mixture you put in each cabbage leaf.
Linked to: