Featured at: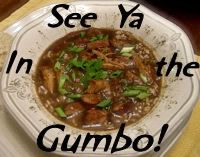 Well I turned another year older a couple of days ago. For my birthday we went out to the farm where we picked some fresh asparagus and came home with a bag of fresh spinach. It was so much fun! The kids had a blast and really enjoyed devouring the asparagus we picked when we got home. I need to try getting them to pick more vegetables because for some reason that makes everything taste a million times better.
I honestly had no plans for the spinach, but everyone loves it so I grabbed a big bag. Last night it dawned on me to make some yummy enchiladas. I figured it made a perfect Friday night dinner and honestly I was really craving enchiladas :)
A close up of the inside. Doesn't that look yummy?!?
Spinach and Turkey Enchiladas
1.2 lbs ground turkey
4 cloves garlic, minced
4 oz diced green chiles
1 small onion, finely diced
2 TBS
taco seasoning
(or 1 packet)
1 cup salsa (I used my homemade stuff)
2 green onions, sliced
2 cups fresh spinach, chopped
15 oz enchilada sauce (or homemade)
10 flour tortillas (I used fajita size)
8 oz shredded cheese
Brown the turkey in a skillet with diced onion and garlic over medium heat
Add taco seasoning, chiles, and salsa and simmer for about 5 minutes
Add spinach, cover, and simmer for about 2-3 minutes or until spinach is starting to wilt
Coat the bottom of a 13x9 baking dish with about 1/4 of the enchilada sauce
Place 1-2 TBS cheese in the center of each tortilla and about 1/4-1/2 cup of the meat mixture
Roll enchiladas and place seam side down in the prepared baking dish
When all enchiladas are rolled top with remaining enchilada sauce
Top with remaining shredded cheese and the green onions
Bake in a 350 degree oven for 20-30 minutes or until cheese is melted and sauce is hot
Serve with desired toppings
Seriously yummy! These are so simple and delicious and everyone loved them! I think the addition of spinach was great and so glad I decided to add it in there.
Below is the nutritional value per serving. This recipe yields 10 enchiladas.
Nutrition Facts
Serving Size 204 g
Amount Per Serving
Total Carbohydrates
43.3g
14%
| | | |
| --- | --- | --- |
| Vitamin A 21% | • | Vitamin C 30% |
| Calcium 41% | • | Iron 79% |
* Based on a 2000 calorie diet
Linked to: