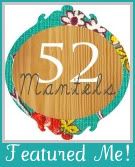 Zuppa Toscana
is by far my favorite soup to get at Olive Garden. I could eat this soup everyday. I never thought I would find a better soup until I found the recipe
HERE
. Oh my GOSH! I am in soup heaven! This is a must try for everybody. Mr. Picky, my toddler ate his soup right up and my daughter had seconds plus asked if she could bring some in for lunch tomorrow! I liked this soup ten times better than the stuff at Olive Garden. I did make a couple of changes to it so I could use up what was on hand, but it was perfect.
Zuppa Toscana
6 slices of bacon, diced
1 lb good Italian sausage (I used the good homemade stuff and even with it mild it was excellent! The original recipe and Olive Garden both use spicy, but my kiddos don't like spicy food so I used a really good mild sausage with lots of flavor)
1 large onion, diced
4 cloves of garlic, minced
4 cups chicken stock
4 small yukon gold potatoes, sliced thin
1/2 tsp salt
1/4 tsp pepper
2 cups of kale, chopped into bite size pieces
1 cup half-and-half
Cook bacon in a large stock pot until crispy
Add sausage, cook until no longer pink and sausage is crumbly
Add onion and cook until translucent
Add garlic and cook until fragrant
Add chicken stock, potatoes, salt, and pepper simmer for 20 minutes or until potatoes are cooked through
Add kale and half-and-half, simmer until heated through about 10 minutes
Serve with grated parmesan cheese, a side salad, and crusty bread. YUM! Simply delicious and easy to make. I suggest having everything chopped and ready to go before you start cooking that way things will go smoothly and really quick. This soup is a must try! I really mean it...by far my favorite soup I have ever made!