Featured On: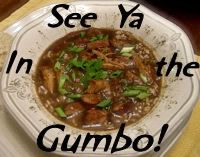 This is one of those meals where everyone will "ooohhh" and "ahhhh" over the wonderful presentations. However, it can be your little secret on how easy this dish is to prepare.
Flank Steak Roulade
basically means rolled flank steak. The beauty of this recipe is you can use whatever you want inside the "stuffing". Blue cheese and bacon, swiss cheese and mushrooms, roasted red peppers, artichokes, and really anything that would go good with steak.
I decided to do a cheesy spinach and tomato roulade. Yum! And as you can see the options are endless! It really is a beautiful dish that is simple to make and on the table in no time. You can also prepare everything ahead of time and then just pop it in the oven when you get home.
Flank Steak Roulade
1-1/2 to 2 lbs Flank Steak, butterflied (
here's a video to help with this
) or pounded out to 1/4 in thickness
Salt and Pepper to taste
1 TBS Minced Garlic
1/4 cup Sun Dried Tomatoes, roughly chopped
5-6 Basil Leaves, chopped
1/4 cup Shredded Mozzarella
1-2 handfuls of Baby Spinach
Season steak with salt and pepper then rub garlic onto steak
Layer sun dried tomatoes, basil, mozzarella, and baby spinach over steak leaving about 1/2 inch from edges
Tightly roll steak and secure with toothpicks or tie with butcher's twine (here's a video to help with that)
Place steak in a baking dish and bake for about 20-35 minutes in a preheated 350 degree oven until the steak is prepared to your liking
Place steak on a platter and tent with foil and allow to rest for 5 minutes
When ready to serve slice into 1" slices and enjoy :)
I rounded out the meal with some homemade mashed potatoes and
maple dill carrots
. Get creative and make your own roulade. I guarantee this will become an easy dish that not only tastes great, but looks beautiful!
Below is the nutritional value per serving. This recipe yields approximately 6 servings.
Nutrition Facts
Serving Size 172 g
Amount Per Serving
| | | |
| --- | --- | --- |
| Vitamin A 21% | • | Vitamin C 13% |
| Calcium 7% | • | Iron 18% |
* Based on a 2000 calorie diet
Linked to: