Featured on: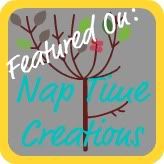 We just got back yesterday from our family vacation. It was wonderful! I didn't take my laptop with me and we really enjoyed our time together as a family. We spent a few days in Hill City, South Dakota. It was beautiful and the cabin was AMAZING! Just check it out...
We did all the touristy things you do in South Dakota like Wall Drug, Corn Palace, and of course Mt Rushmore. We also spent quite a bit of time in the Badlands which was just breath taking! My daughter and I went horse back riding in the Black hills and were able to see some beautiful scenery including the mountains. My little one enjoyed his time at Old Mac Donald's Farm and my husband took many, many scenic pictures. Here's a couple pics of some of the beautiful places we went.
The Badlands
The Black Hills
Herd of Buffalo at Cuter State Park
And lastly there is no way I could post pictures of South Dakota without one of Mt Rushmore :)
Me and the kiddos at Mt Rushmore
All in all it was a wonderful vacation and South Dakota has easily become our favorite spot to go. We can't wait to go back! But back to reality now. Which means cooking, cleaning, groceries, and all that fun stuff.
I really am not complaining because after eating quick meals and going to restaurants I was ready for something homemade and light. So I decided on a quick veggie and pasta meal.
Spinach, Tomato, & Feta Rotini
1 Box of Rotini, prepared as directed on box
1 TBS Olive Oil
1/2 Spanish Onion, sliced into thin strips
1 tsp Dried Oregano
1 TBS Minced Garlic (or 1-1/2 if you're like me and LOVE garlic!)
1 16 oz container Cherry Tomatoes, halved
2 TBS White Wine Vinegar
3 Cups Baby Spinach
1/2 Cup Parmesan Cheese
1/2 tsp Cracked Black Pepper
1/2 tsp Sea Salt
1 TBS Olive Oil
Feta Cheese for sprinkling on top
Heat 1 TBS olive oil in a large skillet over medium-high heat
Add onions and oregano and cook until lightly browned, about 8-10 minutes
Add garlic and cook for about 1 minute
Once garlic is fragrant add cherry tomatoes and white wine vinegar and cook until tomatoes are soft, about 3-5 minutes
Add cooked pasta and spinach and cook for about 3 minutes or until spinach begins to wilt
Remove from heat then stir in parmesan cheese, salt, pepper, and remaining olive oil
Top with crumbled feta cheese and enjoy!
See how easy this is?!? Plus it is incredibly light and delicious. Just what everyone needed after eating all that heavy food on vacation :)
Below is the nutritional value per serving. This recipe yields approximately 6 servings.
Nutrition Facts
Serving Size 205 g
Amount Per Serving
Total Carbohydrates
38.2g
13%
| | | |
| --- | --- | --- |
| Vitamin A 44% | • | Vitamin C 26% |
| Calcium 23% | • | Iron 16% |
* Based on a 2000 calorie diet
Linked to: