Featured on: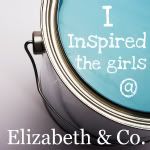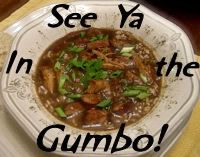 That's right! It's low-cal! Don't get me wrong it is still cake and it tastes WONDERFUL! But it is a little bit better for you. You could make this even better if you cut the frosting and topped with fresh berries or even some fat free cool whip, but with all the Easter candy surrounding me I wanted chocolate.
I am proud of myself I have only had one mini Cadbury egg and some Mike and Ikes, but that is it. So to keep myself on track I decided to make a healthified cake with chocolate frosting. I have seen the cakes using Greek yogurt before and I wish I could remember the original source. I am pretty sure I found it on the Chobani website (which they have tons of great tips on how to incorporate Greek yogurt!), but of course now I can't find it.
Yellow Cake with Chocolate Frosting
1 box yellow cake mix (I used a box of Pillsbury Supreme Classic Yellow Cake Mix I found int he pantry)
1 cup Fage Total 0% Greek Yogurt
1 cup Water
Mix everything together (it appears thicker than normal to me, but I decided to go ahead with it and see how it turns out)
Pour batter into a greased 9x13 pan
Bake for about 30 minutes in a preheated 350 degree oven (I noticed mine was done sooner than the box indicated so check to make sure, if a toothpick inserted in the center is clean then it's ready)
Allow the cake to cool and begin making the chocolate frosting
Chocolate Frosting
1/4 cup Butter, softened
2 TBS Unsweetened Cocoa Powder
1.5 tsp Vanilla Extract
1 TBS Milk
1.5 cups Confectioners' Sugar
Cream butter until smooth
Add cocoa and vanilla extract and mix to combine
Add the milk and then add the confectioners' sugar 1/2 cup at a time until fully combined
If the frosting is too thick add more milk 1 tsp at a time until desired consistency
I love this cake. It is incredibly moist and flavorful. Honestly I don't think I will ever make a boxed cake mix any other way. Even if you aren't trying to cut calories or fat I strongly urge you to try this. You won't be sorry!
Below is the nutritional value and just so you know for fun I figured the nutritional value for making the cake as suggested on the box and with double the frosting (which it doesn't need that much at all) and the calories were 560 for one piece. Plus it was incredibly high in saturated fat. I am so excited to find a better way to enjoy my favorite sweets!
Nutrition Facts
Serving Size 106 g
Amount Per Serving
Total Carbohydrates
51.4g
17%
| | | |
| --- | --- | --- |
| Vitamin A 3% | • | Vitamin C 0% |
| Calcium 5% | • | Iron 5% |
* Based on a 2000 calorie diet
Linked to: