Featured on: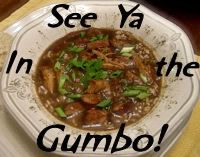 I bought three whole chickens to roast up and shred for meals throughout May. So last night I decided to roast them and make some
chicken broth
(follow the link to see how I make my chicken broth both on the stove and in the slow cooker). With the three chickens I was able to get enough meat for six meals next month plus about 32 cups of chicken broth.
Obviously this is a time consuming process, but I promise it is all worth it! It saves money and there is nothing like
homemade chicken broth
and shredded slow roasted chicken. Now if you are going to roast three chickens, like I did, plan on being stuck home for a while.
Everyone kept saying it smelled like Thanksgiving...It does smell FANTASTIC!
Roasted Chicken
1 Whole Chicken
4 TBS Butter, unsalted
3 Celery Stalks, cut into thirds
Salt and Pepper
Onion Powder
Season chicken liberally with salt, pepper, and onion powder
Place 2 TBS butter in the chicken cavity along with celery (you could also omit onion powder and put an onion in there or add some carrots or lemons...whatever you prefer)
Cut the remaining butter evenly and place equal amounts between the skin and breast of the chicken
Roast uncovered in a preheated 350 degree oven for about 1 - 1:30 hours or until the chicken is fully cooked and juices are no longer pink (this depends on the size of the chicken, mine were all around 4 lbs)
Remove chicken from oven and baste with juices
Cover loosely with foil and allow to rest for at least 30 minutes
I have a large roaster so I roasted 2 chickens together. If you do this plan on roasting for about 30 minutes to make sure both chickens are fully cooked. Once the chicken was cool enough I shredded them and put them in the freezer. I saved the carcasses, veggies, and juices to make my broth.



Linked to: