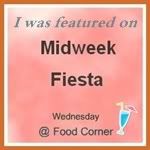 I had
Pasta Carbonara
for the first time a few years ago in a restaurant and immediately began to figure out how to make this wonderful dish. It is super simple, delicious, and the ingredients are minimal. It is one of our favorites to throw together quickly with a some garlic toast and a side of veggies.
If you love pasta I highly encourage you to give this one a try. I was initially intimidated to make this because of eggs, but after making it I learned it wasn't hard at all! So what you waiting for? Grab the ingredients and lets get cooking!
Pasta Carbonara
3 Eggs, room temperature (take them out of the fridge about 30 minutes before cooking)
1-1/2 cups Parmesan or Romano Cheese, finely grated
2 TBS Olive Oil
1/4 lb Pancetta, diced (you can use bacon if you can't find pancetta)
4 Cloves Garlic, chopped
1/2 cup Frozen Peas
Salt to taste (I leave it out since the bacon or pancetta are salty)
1 lb Spaghetti Noodles
Pepper to taste
In a small bowl whisk together eggs and parmesan cheese, set aside
Heat olive oil in a large skillet over low to medium heat
Add pancetta and cook about 10-15 minutes or until the fat has rendered (if the pancetta starts popping or sizzling lower the heat. You want the fat to melt and you don't want your pancetta to burn! Check out this article on how to properly render fat) when done set aside
Add chopped garlic and cook for about 1 minute to soften
Meanwhile bring a large pot of salted water to a boil and prepare noodles as directed on the package for al dente, drain noodles, and reserve 1 cup of pasta liquid
Slowly whisk 1/2 cup pasta water in with the eggs (I completely forgot to save some pasta water so I skipped this step and it was fine just thicker than I normally make it)
Return the skillet with the pancetta to medium heat to rewarm
Add pasta and toss to combine, cook about 2 minutes
Add peas, combine, and then remove from the heat(the peas will cook with the heat from the noodles and pancetta)
Pour in the egg mixture and whisk quickly so the eggs thicken (you do not want them scrambled so make sure the pan is not heated!)
If you want a thinner sauce use more of the reserved pasta water to reach the desired consistency
Season with salt and pepper if desired
Serve immediately and top with a little fresh grated parmesan cheese
For the small amount of ingredients the directions look intimidating, but please give this one a try. I can almost guarantee you will fall in love with it. It's really easy, quick, and delicious!
Linked to: