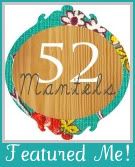 We were out much of the day yesterday and wanted something quick, easy, and satisfying for dinner. That's not much to ask ;) My husbands favorite dish is Balsamic Chicken. Unfortunately I don't follow a recipe so it comes out different every time. Never bad, but never the same...lol. So I decided I would write this recipe up because it was so good!
Honey Balsamic Chicken
3-4 Boneless Skinless Chicken Breasts, washed and seasoned with salt and pepper
2 TBS Butter
2 TBS Olive Oil
1/2 cup Chicken Broth
1/4 cup Balsamic Vinegar
2 TBS Lemon Juice
4 Cloves of Garlic, minced
2 tsp Honey
Melt butter in a large skillet over medium-high heat, add olive oil and then chicken
Cook chicken until browned crispy, about 7-9 minutes on each side (don't worry if chicken is not cooked it will continue to cook in the sauce
Add chicken broth, vinegar, lemon juice, garlic, and honey to the skillet and mix well
Simmer for about 10 minutes or until chicken is cooked through and no longer pink in the center
Flip chicken half way through to coat well in the sauce
Plate chicken and spoon extra sauce over top of the chicken
The chicken takes on such a great flavor and the sauce is fantastic for dipping a nice crusty bread into. Serve with some veggies and a side salad to round out the meal. YUM!
Don't forget to find My Road to Savings
on
facebook
,
twitter
, or
Google+
to stay up to date with all the great tips, tricks, and recipes!
linked to: